Add-on menu is a convenient and user-friendly way to access such user-related information as their current cashback account balance. With this feature your users don't need to go to secure area of your website to view their profile. Instead they can click just one button, and see how much of a cashback they already have on their account.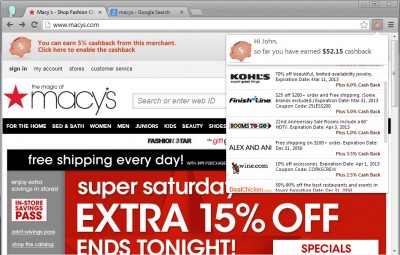 Cashback balance available at a click of a button. No need to interrupt your browsing experience to login to website profile area. Just click a button and get all relevant info right in your browser.
Key Benefits of Working with A4C
You own the source code of the add-on, so you fully control your business. You can maintain your add-on with your in-house development team, or you can use us as an extension to your development team.
Our solution is cross browser and works on all major browsers: IE, FF, Chrome, Safari, Opera. This helps you to maximize the audience coverage.
No royalties, or recurring license costs. You pay for development as you go.
Our vast experience in building cashback add-ons and knowledge of best practices in that field allows us to make valuable suggestions to your business.