A4C provides online cashback portals with complex, turnkey solutions which are proven to increase both user engagement and average revenue per user. Bespoke solutions include browser extensions for all five major browsers (Chrome, Firefox, Safari, Internet Explorer, Opera) and mobile apps for the top platforms (iOS, Android and Windows).
Our browser extensions ensure that your user never forgets to use your affiliate link when shopping online. With browser extensions your cashback website is a constant presence in the user's browser window and reminds them about cashback every time they are shopping online. At the same time, these intuitive extensions are non-intrusive and non-disruptive, allowing the user to go about other internet tasks unimpeded.
A4C cashback mobile apps put your website at your user's fingertips, in the pocket and on the go. Even if your user is away from their laptop or desktop computer, they can browse your affiliate merchants through your cashback mobile app, and make purchases easily with cashback on the go.
If your developers are busy, we can provide our cashback api development team to add the necessary APIs to your cashback website.
Our Customers
---
Browser Extensions
Increasing customer engagement is just one reason firms like yours choose A4C to help develop cashback browser add-ons. Unlike many other existing solutions we will provide you with full source code for your solution. This means you retain control at all times. There are no royalties and no recurring fees. You simply pay for the development process.
Key Benefits of Working with A4C
A strong code base and cross-browser framework significantly reduces project timeframes. This allows you to release your extension to the market earlier, generating revenue sooner than may otherwise be the case.
You own the source code of the add-on, so you fully control your business. You can maintain your add-on through your own in-house development team, or you can use A4C to complement your own expertise.
Our solution is cross browser compatible from the ground up and works on all major browsers including Internet Explorer, Firefox, Chrome, Safari and Opera. This helps you to maximize the audience coverage without the cost and time considerations associated with maintaining and developing five separate add-ons.
No royalties, or recurring license costs.You pay for development as you go.
Our vast experience building cashback add-ons and unrivalled knowledge of best practices means we can make a real contribution to your business.
Our team includes Cashback API developers. We can set up the API so the add-on interacts with your database. This frees up your team's time, releasing them from maintenance tasks and allows you to focus on other priorities such as building relationships with affiliate networks and business development.
Cashback Browser Add-on Standard Features
While powerful in their own right, including further functionality and additional features to browser add-ons is proven to boost user engagement. Each of these popular features can be included with all of A4C developed add-ons:
Cashback Notification Slider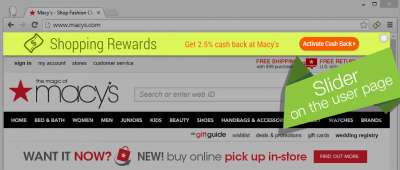 A live cashback notification reminds your users that they will get cashback at the exact time they visit the merchant website
The live cashback notification makes it quick and easy for the user to enable the cashback affiliate link with the click of a button on the slider, helping to increase the conversion rate
Search Engine Results Page Injection
Billions of web searches are conducted every month. Our solutions ensures that your brand is continually promoted and visible on the results pages as your users search the web for products and services that matter to them.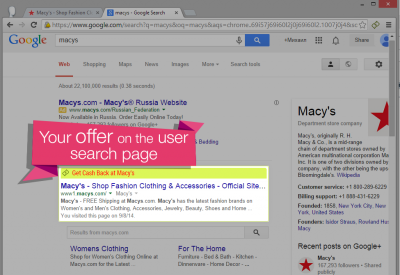 Search results page injection means your icon will be displayed next to relevant listings on major search engines such as Google. This immediately alerts the user that they can get cashback from you for purchasing via those sites.
Studies show that icons next to search results help users to make a decision regarding merchant choice much quicker.
The injection can also display messages, telling the user how much cashback they can get from the merchant.
SERP injection is shown to increase commissions by encouraging the user to make a purchase from your affiliates
Add-ons Menu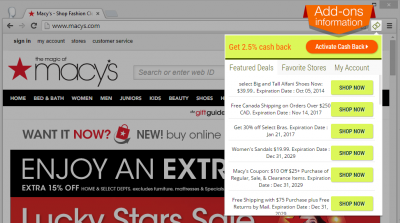 You can display information from your user's profile in a menu pop-up area of the browser add-on. This information could show the amount of cashback earned so far.
Or, you could use this area to display a list of special deals or hot offers available right now.
You also can use this area to display dynamic notifications to your user.
---
Cashback Mobile Apps
A4C specializes in developing mobile apps for Android & iOS. We create mobile apps that place your affiliates at the shopper's fingertips, at the exact moment of purchase. The app maintains a seamless shopping experience and replicates that the user would have by simply going online through a browser. The key difference is that with a cashback mobile app, your affiliate link is automatically enabled, generating certain commissions.
Key Benefits of Working with A4C
Our team specializes in development for cashback companies. We know your business and the industry, so there is no educational or incubation period. In fact, we're often able to make value add-suggestions based on comprehensive cashback experience.
You own the source code of the app so you fully control your business. You can maintain your add-on with your in-house development team if you choose, or you can outsource to A4C, bringing our experience in-house.
Our solutions support all main mobile platforms including iOS and Android. This helps you t maximize your audience coverage with no extra effort expended.
No royalties, or recurring license costs are payable.You pay for development as you go.
Our team incorporates cashback api developers. We can set up the API to allow the add-on to interact with your database. This frees up your in house resources and focus for critical business tasks such as sales and networking.
Features of your cashback mobile app.
Your cashback mobile app will become a one-stop shop for all online purchases your users make from their mobile devices..
Navigation panel
A clean, crisp navigation panel screen displays main app features so the user can quickly jump to their desired area.
Hot Deals
The hot deal screen displays promoted offers. The user is showing banners displaying stores currently offering hot deals and the amount of cashback available. The user can then easily navigate to more detailed information about the store and the deals, or begin shopping in a browser window with a single click.
Favorite
A list of stores marked as favorite by the user for quick access. By tapping on a banner, the user can access detailed store and deal information or open a web browser window to start shopping using the default cashback offer.
My Account
On this screen the user can manage their account details and view their cashback history.
All stores Cashback
An alphabetical list of all stores and summary information about cashback deals. The list can be filtered by keywords in the search field on the top of the screen. By tapping on the stores list item a new screen loads showing relevant store and deals information.
Store deals
The store details screen displays summary information about cashback deals and a list of proposed deals. By tapping on that banner the user can instantly shop the chosen deal.
Notification
A Google Cloud Messaging client that receives broadcast messages from a secure 3rd party customer server. The notification displays in the notification area even if the application is closed. Messages can contain short information about new Hot Deals available to stimulate purchases.
---
Cashback API development Team
Server side API allows your cashback browser extension or mobile app to communicate with your database. It fetches deals from your affiliate merchants and passes them to your users, so that they can earn cashback. If you do not have a server API available, you can hire our specialists to develop it along with cashback browser extension or mobile app.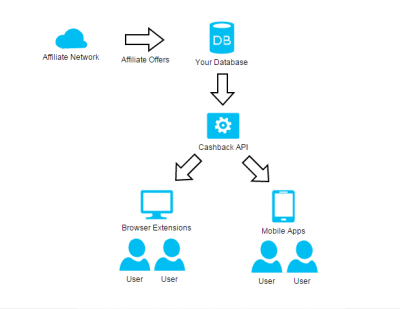 The extension's backend is an interface between the cashback extension and the existing cashback database. It will provide APIs necessary for browser extension, and has a limited reporting functionality.
The backend user interface can be used to manage a specific lists of stores, called "Campaigns". Campaigns can be sorted into most popular stores or featured stores for the current season and special events.
Key Benefits of using A4C for server side development:
The development of server APIs and browser extensions or mobile apps resides within the same development team. This greatly reduces communication overhead and efficiency, when compared with retaining server-side and client-side development across two different teams.
Your in-house developers time is freed up to concentrate on other critical business tasks, while the A4C team develops the cashback extension or mobile app on your servers.
If you do not have an in-house development team available, you can use A4C as a one-stop shop for all your development needs.