Add-on menu is a great way to inform your users about your top promoted merchants in a
not-interfering
and
user-friendly
way. Don't miss this opportunity to use real-estate on the user's add-on pop-up menu!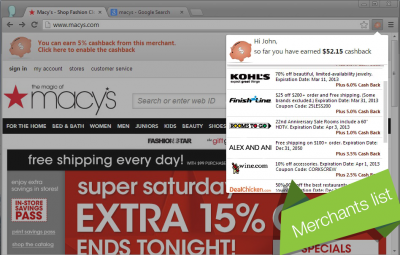 Top promoted merchants are available for user at one click of a button. Your users won't need to open your website to look for merchants, and can access them at any moment of their browsing experience.
All cashback add-on users are periodically checking for their cashback account balance in add-on menu. This moment is a great opportunity to show your top merchants and remind about benefits of cashback shopping.
Key Benefits of Working with A4C
You own the source code of the add-on, so you fully control your business. You can maintain your add-on with your in-house development team, or you can use us as an extension to your development team.
Our solution is cross browser and works on all major browsers: IE, FF, Chrome, Safari, Opera. This helps you to maximize the audience coverage.
No royalties, or recurring license costs. You pay for development as you go.
Our vast experience in building cashback add-ons and knowledge of best practices in that field allows us to make valuable suggestions to your business.